During the last five years I am working on export of Greek Food and agricultural products to Baltic countries as representative of manufacturers. I live in Greece for 8 years since 2012 and had the opportunity to be involved in daily life and work during financial crisis in Greece.
Today's situation of global pandemic crisis doesn't shock and stress Food & Beverage field players as it was during previous crises. I would say opposite – manufacturers work stable and in increased volumes. My partner, an olive oil manufacturer, had to add weekend shifts to meet increased orders mainly from Europe. Canned peaches' manufacturer foresees at least usual crops and orders of their production. Wine manufacturers expect to enter more European markets taking advantage of much more familiar Greek wine verities in Europe. Though olives manufacturer is little concerned about temporary/seasonal workers from Albania for picking up the crop in autumn, further I will analyse migrant labour and Greek agricultural characteristics to point supply advantages of Greece compared to other southern European countries.
Labour force challenges in Europe and in southern Europe during global pandemic
Independent UK indicates that a shortage of migrant workers threatens to disrupt production at suppliers including Spain, the biggest exporter of fruit and vegetables in the EU.
TheJakarta post writes that France expects some 200,000 workers will fail to show up this year. Coldiretti, an association of Italian farmers, estimates the country will be short as many as 100,000 foreign labourers. Germany typically has 30,000 migrant farm workers in March and 80,000 by May but this year only a fraction of that number have shown up, according to Agriculture Minister Julia Kloeckner.
Greece almost does not depend on the migrant labour contrary to main countries suppliers of fruits & vegetables and olive oil in Southern Europe, because of agricultural structure of farms.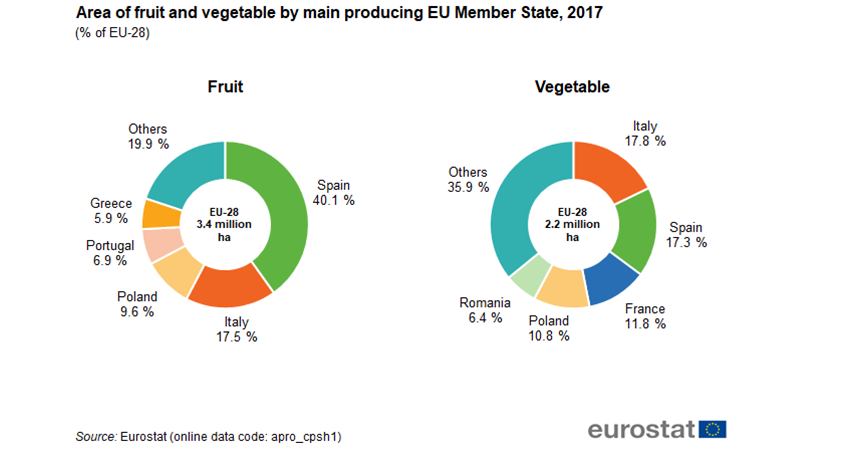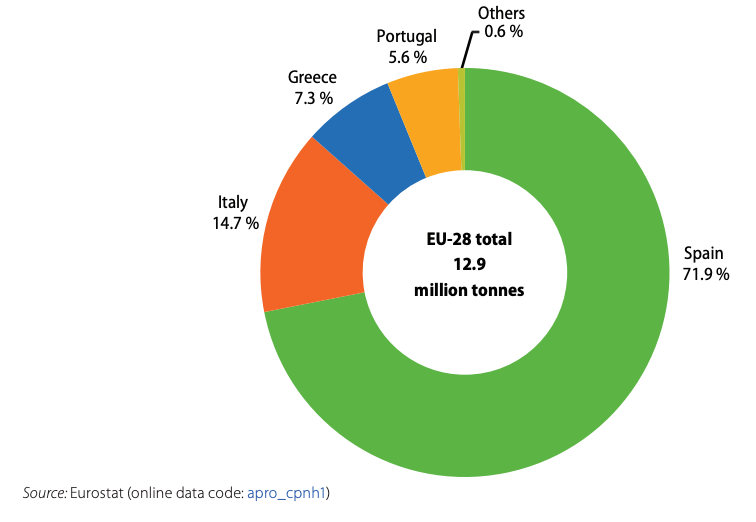 Agricultural structure in Greece and agricultural employment
The small size and high fragmentation of farm holdings are reflections of Greek agriculture's historical, cultural, spatial and geomorphologic heritage. The average size per holding is 6.8 hectares,which is low compared to the rest of the EU. In general Greece cultivates family farming where the raw materials are sold to organised manufacturers and then turned into production for whole & retail sale and exports. Agricultural products account for 17.6% of the country's total exports (2018), with one third being fruits and vegetables.
Specialist permanent crops (e.g., olive trees, citrus fruits) make up the largest share (56%) of farms, followed by specialist field crop farms (19%), specialist grazing livestock farms (9%), mixed crop livestock farms (6%) and mixed cropping farms (5%) (Eurostat 2016a).
Overall, family members contribute 85% of total farm work on their farms, while the remaining 15% is divided between regular and non-regular non-family labour. Greece has a higher proportion of family labour in its agricultural sector than other Mediterranean countries within the EU.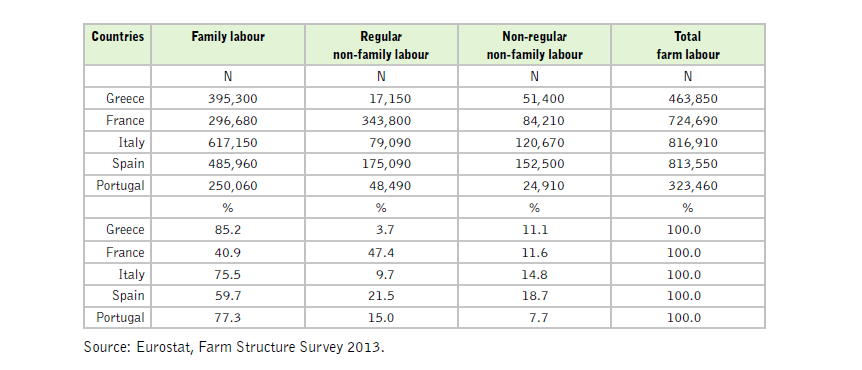 The majority of non-family labour is provided by (regular or irregular) migrants.
Apostolos G. Papadopoulos and Loukia-Maria Fratsea in their paper Temporary Migrant Workers in Greek Agriculture, 2017 conclude that:
Temporary / seasonal migrant labour has been a major entry point into the labour market for irregular migrants and asylum seekers newly-arrived in Greece. 2015, 911,471 migrants and refugees arrived in Greece.
Permanent agricultural workers usually are Albanians. They are usually of Albanian origin with a long presence in Greece and a good knowledge of the language.
Seasonal-permanent workers are usually Bangladeshi, Bulgarians and Romanians, who live locally.
Seasonal migrant workers performing skilled agricultural tasks usually are local residents Albanians who are experienced in specialised tasks and may move to neighbouring villages when needed.
Seasonal migrant workers performing unskilled agricultural tasks are usually Albanians, Bulgarians, Romanians or Bangladeshis, either migrate in a circular pattern from their country of origin or move at harvest time from other parts of Greece and are typically employed in unskilled, precarious, seasonal jobs.
Opportunity for Greece to keep stable in supplying Mediterranean products for Europe
Greece has the best results in Europe in terms of flattening the curve for the number of confirmed coronavirus cases, according to a comparative study published by Bridge Tank, as reported by international news agencies, ANA reports. Greece imposed strict restrictive measures to succeed in flattening the epidemic's curve and slowing the spread of the virus. A success is largely assigned to the discipline of its population under lockdown, readiness status after a decade of financial crisis and never-ending military tensions with Turkey.
Being stable during this stage of pandemic, Greece will strengthen its market position. It can be expected that the country remains consistent in the event of another crisis.
In most cases, labour demand of agricultural sector of Greece is met within the country borders. It is an advantage compared to other southern Europe countries. Seasonal migration of workers from Eastern to Western Europe became difficult caused by lockdown of national borders. Labour problems break productivity in Southern European countries- exporters.
Greece is the 5th top country by PDO (Protected Designation of Origin), PGI (Protected Designation of Origin) and TSG (traditional specialties guaranteed) registrations after Italy, France, Spain and Portugal. Competitive advantages of high quality products, better awareness of Greece as a supplier can help to win new markets.
Concluding personal remarks
Greek cheese varieties, wine varieties are still presented in Europe very little.
Greece is at the forefront of coming summer's and autumn's harvests of melons, watermelons, stone fruits, grapes, olives, tomatoes, potatoes etc. followed by the production of wine and olive oil.
Efficient work on Greek product exports would leave manufacturers and buyers satisfied together with supply-demand chains stable. Let's stay safe turning threats into opportunities.